Daily Diary – June 6th 2023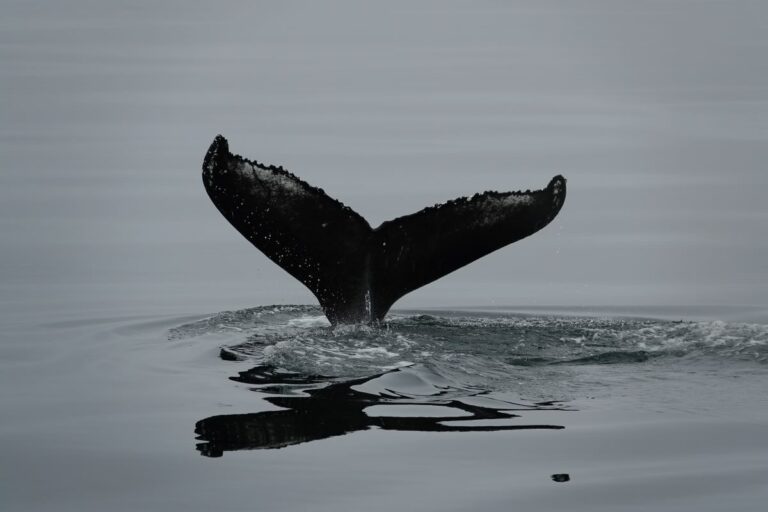 Daily diary of whale watching from Reykjavik Old Harbour, on the yacht Amelia Rose, on June 6th 2023 – written by Lucky.
It was a little overcast as we set sail from Reykjavik Old Harbor, but mild, and only a little swell. We headed out into the wind and out to open water, already seeing a lot of puffins as we passed the colonies on the islands.
First, we saw a minke whale in the distance out towards the Reykjanes peninsular but it was a long way away and nowhere near where we saw humpbacks the previous days so we took a gamble and carried on to the main feeding ground.
Our gamble paid off. We suddenly saw a set of blows about 1km ahead and headed straight for them, to find multiple humpback whales! They popped us all around us, feeding, totally relaxed. One even came right up to the front of the ship!
We spent some time with it before turning to head back to shore, but before long we took a small diversion to find a pod of dolphins, with the juveniles practicing jumping. What a treat.
We enjoyed watching them play for a while before continuing on our journey, with the sun now out and the wind being at our back it was a very smooth and enjoyable ride, looking out at the stunning landscape around us.
There is a small feeding ground on the way back and there we saw another humpback, that showed us all its tail in a perfect dive in front of Hvalfjordur. We got back into Reykjavik on time and with happy customers!
Here are some of the animals we saw today.
Humpback whales
Minke whales
White-beaked Dolphins
Puffins
Northern Gannets
Arctic terns
The afternoon trip continued with the same sun, though a little more wind, we didn't have to go even half as far as the morning trip to find dolphins, and then, as we were watching them we saw a humpback blow nearby – seemingly having appeared from nowhere!
The dolphins went and played with the humpback for the best part of an hour, close to the boat, so we all had a wonderful David Attenborough show. We saw many tail dives, the tubercles on the humpback's nose, its great pectoral fins, as well as every part of countless dolphins. Just incredible!
On the afternoon trip we saw;
Humpback whale
White-beaked dolphins
Arctic Terns
Northern gannets
Many puffins
Black-backed gulls
Fulmars
Kittiwakes