Snorkeling in Iceland between tectonic plates; our top 5 tips to stay toasty warm!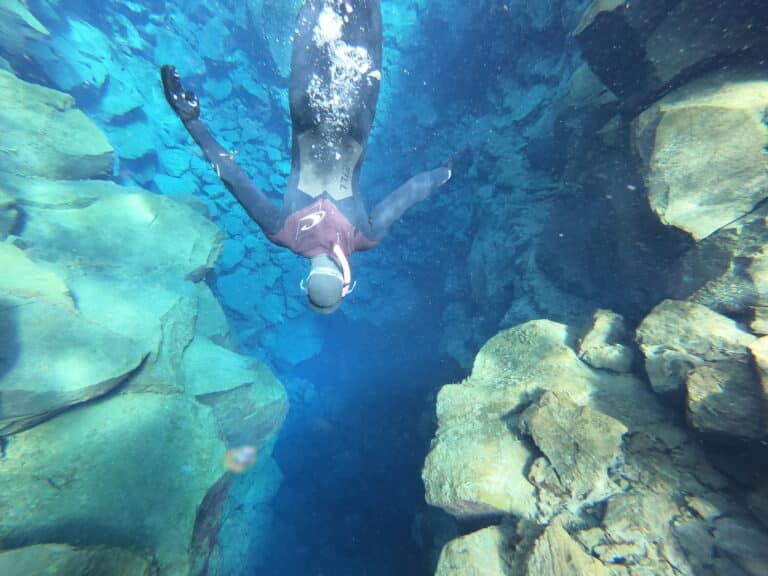 By Lucky Byfleet
Sure, you love going to our geothermal spas and watching the Northern Lights shine above you, but you want to do something more adventurous during your Icelandic holiday? Look no further. Snorkeling in Iceland between tectonic plates is what you need. It is the only place in the world you can do it, and some of the clearest water in the world too…because it's water from a glacier. This means that whilst it is super clear it is also really cold…about 3°C or 37°F. It is definitely worth taking the plunge, but we want you to stay warm so here are our top tips.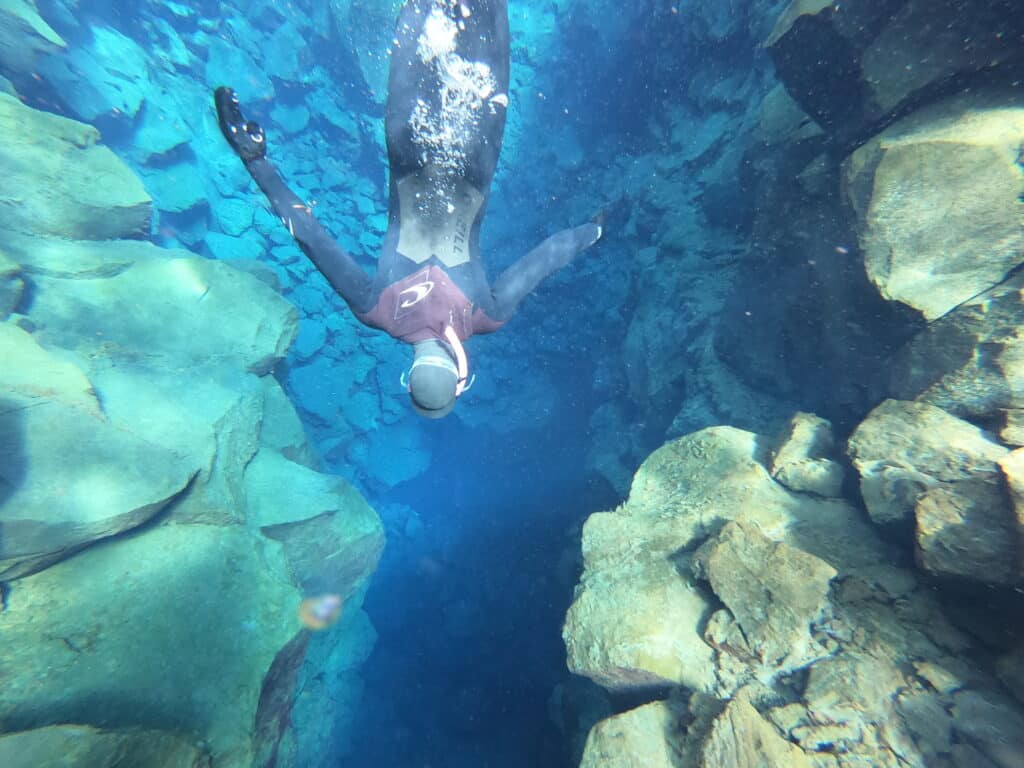 Not far from the capital city of Reykjavik is Thingvellir, the large national park, home to one of the longest-running parliaments in the world, and the diving and snorkeling location of Silfra. Whilst you are there be sure to check out the beautiful waterfall!
Even if you don't fancy a swim this is an incredible place to walk around, but we cannot recommend getting in the water enough, however you can only do this with a licensed company, don't just show up in your budgie-smugglers expecting to hop in!
You might be asking yourself, why would I go snorkeling in Iceland?
The fissure between the Eurasian and North American plates cuts right through the National Park. The rift we see today was formed in 1789 due to massive earthquakes and plate movement. The snorkeling and diving spot is located there, where the continents meet, and they are drifting apart at a rate of 2cm per year, which is extremely fast, geologically speaking!
The earthquakes in 1789 opened up many fissures, but the fissure at Silfra hit an underground spring, fueled by the glacial meltwater from a nearby glacier, Langjökull – the long glacier. This process takes between 30 and 100 years, as the water filters through the porous underground lava to reach the spring.
Glacial water is very clean, when we go on glacier hikes we drink straight from the streams! However, after this long filtration process, the water coming out at Silfra is unbelievably pure, resulting in incredible underwater visibility, easily over 100 meters! This is some of the purest and cleanest water in the world…so clean you can drink it – cleaning out your snorkel is not a problem. Glacial water is naturally very cold, but due to it constantly moving Silfra doesn't ice over, meaning you can snorkel there all year round.
Snorkeling isn't the only activity you can indulge in at Thingvellir. You can also go diving in Silfra. Due to the clear water and amazing lava rocks diving in Silfra is a once-in-a-lifetime experience.
How to stay warm snorkelling!
When we say it is cold we mean it, but it is bearable, and you can make it more so with these top tips!
Eat breakfast. It's about a 45 min drive to Thingvellir from Reykjavik so you'll have time to digest it, don't worry. Even if you aren't normally a breakfast person then try, eating raises your body temperature from the inside.
Wool socks. Ideally knitted by an Icelandic grandma, they weave warming magic into them! Even if you opt to wear a dry suit instead of a wetsuit then you will still wear wet suit boots, gloves, and hood. Woollen socks provide an extra layer of insulation for your feet, which often feel the cold most.
Wear your thermals. You'll be given a thermal layer but another one makes all the difference especially if you are prone to feeling the cold think leggings and long sleeve top…jeans are a no no.
Gloves, a hat, and easy to put on snuggly clothes. Once you are out you will strip off your wet or dry suits and will want to get into something warm as soon as possible. Now is not the time to wear your skin-tight leather catsuit! All the companies change in their minibuses, the toilets on site are just that – there is no space to change in them. So you want to bring things you can change into easily.
Most companies will offer around hot chocolate to warm you up afterwards, but if you can't drink it for any reason bring a small thermos of your favourite warm drink.
Before you book you need to decide whether you are going in a wet suit or dry suit, it is up to you, but in both cases, you must be able to swim!
Our final top tip, the most important one, is please listen to your guides, they swim multiple times every day and are a fount of knowledge!