Diamond Beach; What's best? Summer or Winter?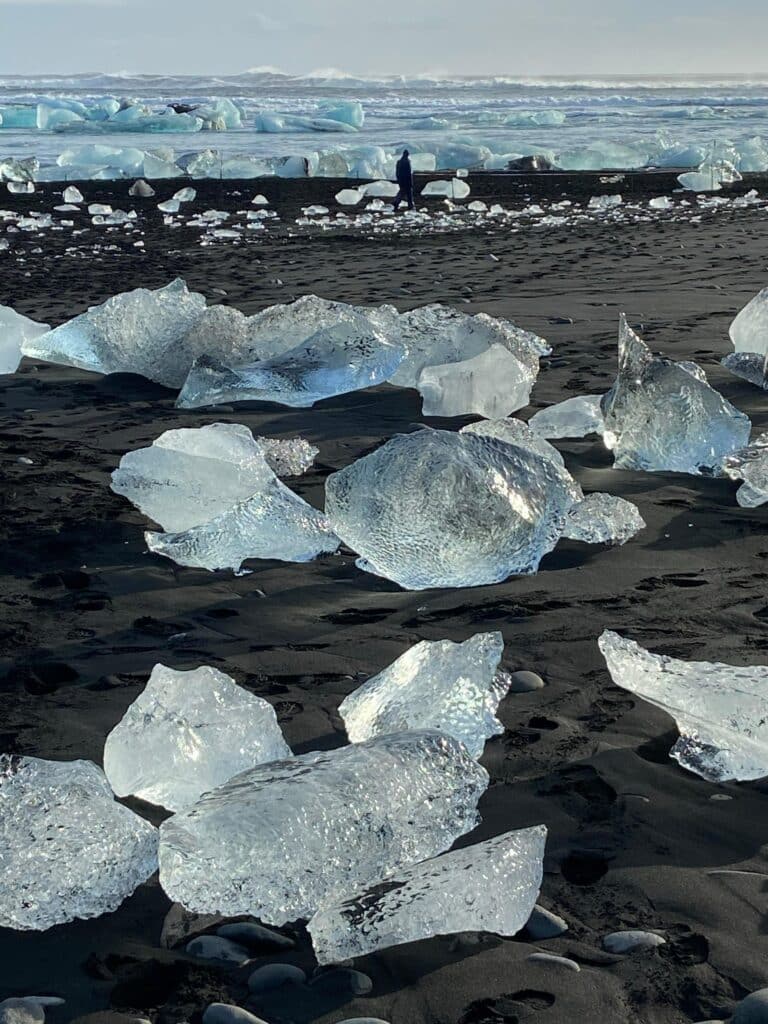 by Lucky Byfleet
Diamond Beach is the top Icelandic destination for many tourists when they visit our shores, and for good reason. It is so different from anything they have at home, it's hard to even comprehend what is being seen. The black sand beach is scattered with clear, often blue-tinted icebergs of varying sizes, sparkling in the sunshine. Alone it is incredible, but as it sits right next to another top attraction the mighty Glacier Lagoon – Jökulsárlón in Icelandic – it is an absolute must-visit destination.
Unlike a lake, a lagoon is a body of water that is connected to the ocean. People often imagine lagoons to be warm, but ours is at the foot of a glacier, so it is much more chilly than tropical! The glacier Vatnajökull, which covers almost 8000km² has many tongues sticking out from it. Each so huge they are named in their own right.
Breiðamerkurjökull is the name of the glacial tongue that sticks out between the mountains, and at its front giant icebergs calve off periodically. Sometimes they can cause life-threatening tidal waves as they fall into the lagoon. As they float slowly out towards the open sea they break apart and melt, sometimes turning over dramatically, revealing the bright blue ice hidden below the water surface.
As the icebergs exit the narrow channel at the mouth of the lagoon – a process that takes some time as the tides push them back in as well as draw them out, they break down further. Eventually, they get swept out to sea or pushed up onto Diamond Beach. The beach is called Breiðamerkursandur, but the nickname Diamond Beach stuck, and for an obvious reason. On either side of the channel are black beaches and the icebergs wash up on them, looking truly dazzling, and for all the world like massive chunks of glass or diamonds. We are sure when you see Diamond beach you won't dispute the name!
What time of year is best to visit Diamond Beach?
The answer is easy if you are asking about the beauty of the place; Diamond Beach is incredible and accessible all year. It is constantly changing as new chunks of glacier calve off, and others melt or get washed away, but there is almost always a lovely range of 'diamonds' on Diamond Beach. Some days they are huge, other days they are smaller, but they always look spectacular!
If you are very lucky and watch the weather forecast then in winter you may even see the northern lights shimmering in greens and purples above it. There is almost no light pollution there to dim it. And during the summer we have the midnight sun – meaning you can visit it at 3 am in daylight — and have the possibility of having the place to yourself!
The only difference really comes in the journey to get there. It is five hours straight from Reykjavik and despite the road being good, in winter it may be icy, snowy, or with extremely strong wind. Our national speed limit is 90km, which is much slower than most of Europe for this reason. This isn't a country to speed in, so take your time, and take lots of breaks as there are loads of awesome things to see and do along the way.
If you don't want to drive taking a tour is a great idea, there's no stress and your guides will tell you lots of cool facts about Iceland on the way. If you are driving yourself then take a few days, and do the South coast of Iceland justice!
We hope you found this article informative and that you enjoy your future holiday in Iceland!