Dazzling Northern Lights!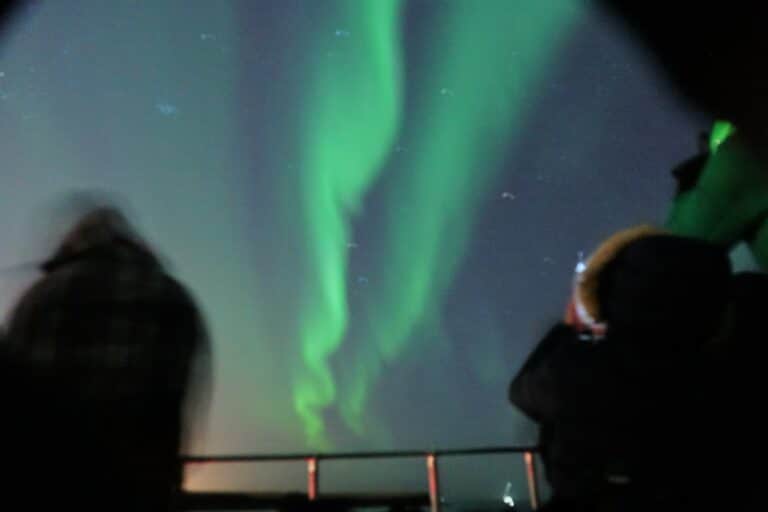 Northern Lights luxury yacht trip from Reykjavik was heavenly tonight.
Forecast 0% cloud cover 2/9 KP index
Success! Sea Trips Reykjavik found the Northern Lights tonight from Reykjavik.
Tonight was stunning, a clear cold night and a full moon. Sometimes the light pollution from the full moon affects the visibility of the aurora but tonight it just added to the splendor of the evening.  
Everyone was on board the superyacht Amelia Rose and we departed Reykjavik Old harbor on time to go and hunt for the northern lights. After the safety briefing, everyone went off exploring the ship, down into the cabins all hand-carved and with marble surfaces or up into the wheelhouse to chat with the captain and sit in his chair. From the wheelhouse, you can see the information we get from satellites that indicate the density and speed of the solar winds along with a whole load more information from NASA.  
The sea was nice and calm, and we gracefully slipped out of the harbor and through the islands to find the perfect place to view the northern lights. Once we had stopped everyone came up from the warm cabin up onto the top viewing deck, still snug in the blankets and ponchos we provide. It has 360degree views up there and the views of the snow-capped mountains and islands around us were spectacular, the moonlight making the snow sparkle. We go far enough away from Reykjavik so that the light pollution doesn't affect us but we can still see the beautiful cityscape in the distance. 
It wasn't too long before we saw the lights start to appear, so we made sure everyone was out from the cozy main and front saloons and on deck, Viking hot chocolates in hand (Hot chocolate with amaretto, baileys, or 80%rum in them.) The lights grew brighter and brighter, at first they were an arc, then the arc started to ripple and ribbon in bright green, then, before we knew it we have a huge corona overhead, a giant spiral in the clear sky. Everyone took wonderful photos of it and it was a real joy to show this amazing natural wonder to people from all over the world! The northern lights bring everyone together in amazement at their beauty.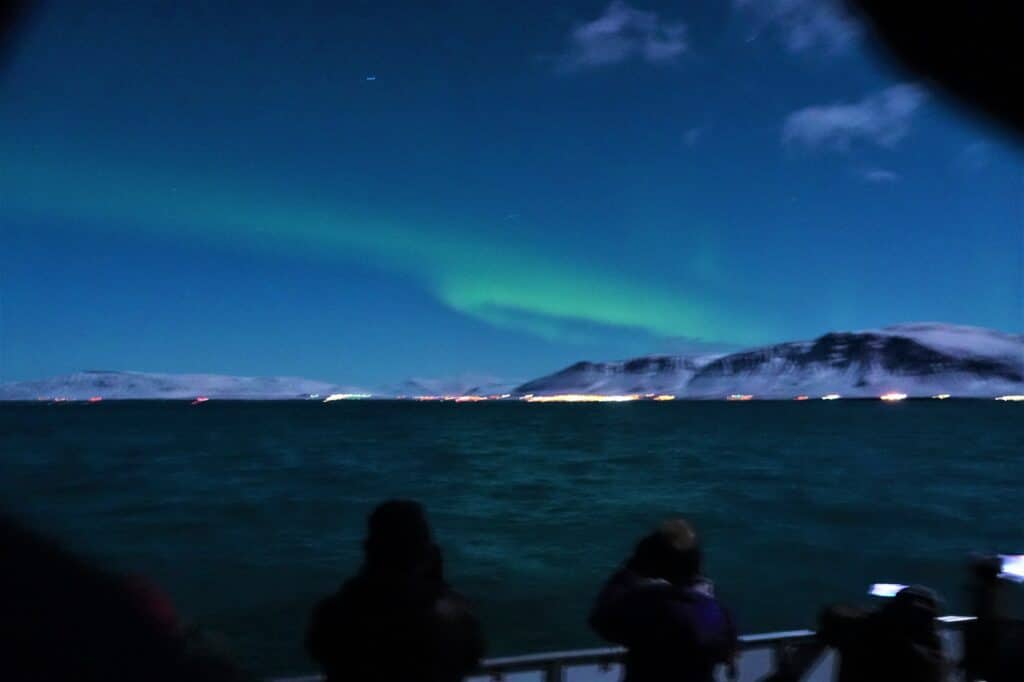 If you are interested in learning more we recommend these websites, https://www.spaceweatherlive.com/ and http://www.aurora-service.eu/ They have a lot of extra learning materials as well as real-time satellite information.