Amazing Humpback Whales! Up close and personal whale watching on a yacht.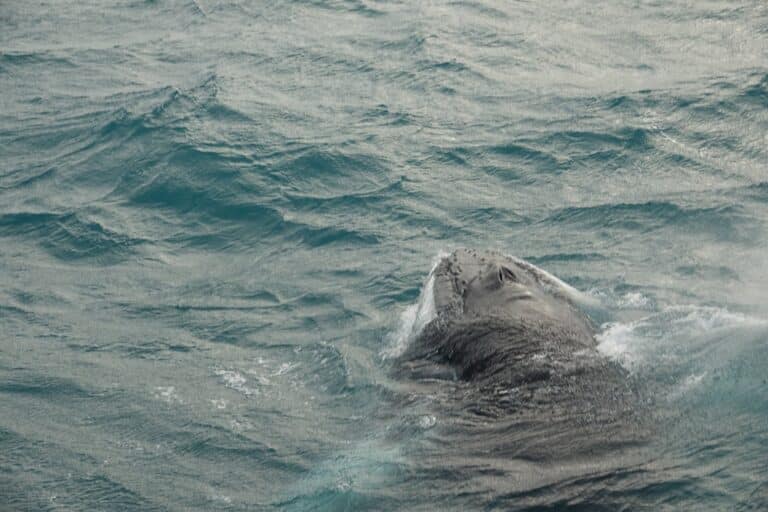 by Lucky Byfleet
What a spectacular day whale watching! We found several humpback whales as well as a minke, some white-beaked dolphins, and many guillemots, kittiwakes, fulmars, gannets, and cormorants. The mountains around us formed an incredible backdrop with just the smallest dusting of snow on the top.
It was sunny and warm for a winter's day when we set out on the yacht Axel Rose to look for whales in the bay, the water was flat calm and bright blue, if it wasn't for our thick coats and gloves we could have thought we were in the Mediterranean. We left Reykjavik harbor, and our guides briefed our customers on what we were hoping to spot, and how to spot them. This late in the season we weren't expecting humpbacks, but we had been seeing them this week. So fingers were crossed!
Especially with humpbacks, we look for the blow. As they breathe out moisture from their lungs it shoots up into the air to make a cloud of steam that can be many meters high. It's relatively easy to spot that white blow against the blue of the sea but we also look out for birds diving into the water and anything with a dorsal fin.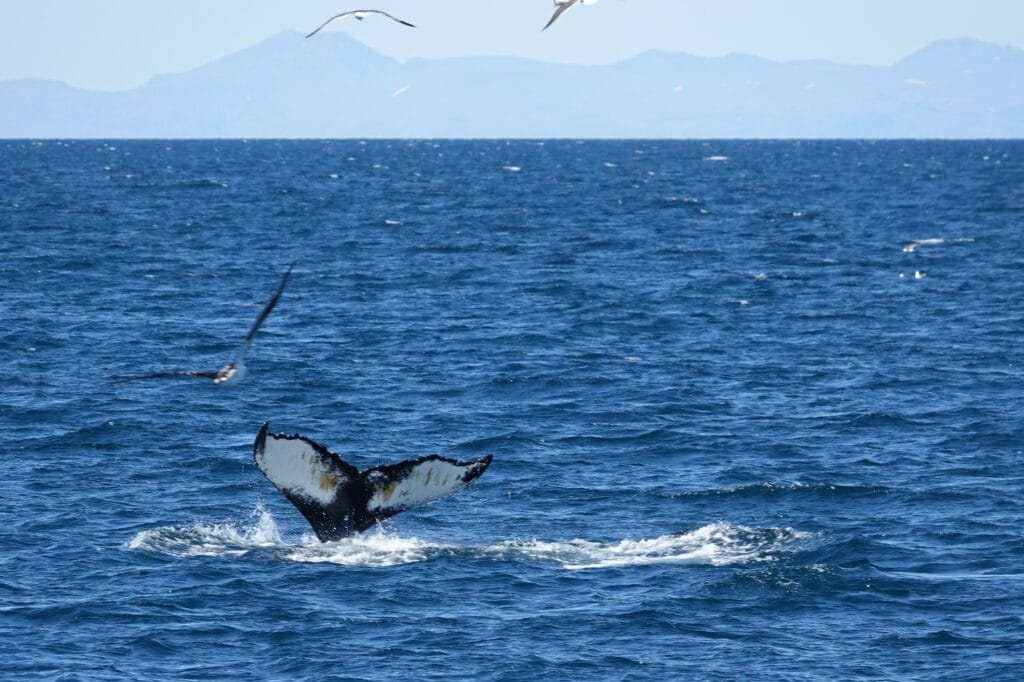 For more information on how we search for whales and dolphins and learn how to be a pro-cetacean spotter yourself have a look at our guide here.
We headed out towards the whale feeding ground, hanging in close to Whale-fjord because we saw so many birds feeding in that area. After waiting and searching we couldn't find anything, then a huge minke zoomed out of the water straight in front of us, evidently mid-hunt. Whilst we were busy gazing at wonder in it another whale watching boat called us on the radio – "Look behind us!" and a humpback had surfaced out of nowhere very close to us.
It was gorgeous, with a hook-shaped mark on the dorsal fin, so we knew we'd seen it before, and called in Maui after the Polynesian demi-god with his hook. It remained relaxed and continued to feed even though it was so close to us. That is extremely important to us, the welfare of our ocean mammals has to be our top priority and we always make sure we are responsible around them, no fast turns or getting too close. By remaining predictable and calm these intelligent, curious giants know to trust us and so choose to approach us, and they also know they can leave any time without us chasing them.
Having marvelled at this whale our other yacht Amelia Rose called us to say they could see two humpbacks together near them, and so we left this humpback and went to see if we could help them ID those two whales. The whales were swimming very close together, surfacing at the same time, and evidently enjoying each other's company. Then they rolled onto their backs and sides showing off their huge pectoral fins too. What a treat to see!
Eventually, our incredible whale watching trip had to draw to a close and we headed back to Reykjavik harbour. Stopping
If you have any more questions about our ships or the whale watching trip please contact us or have a look through our FAQs.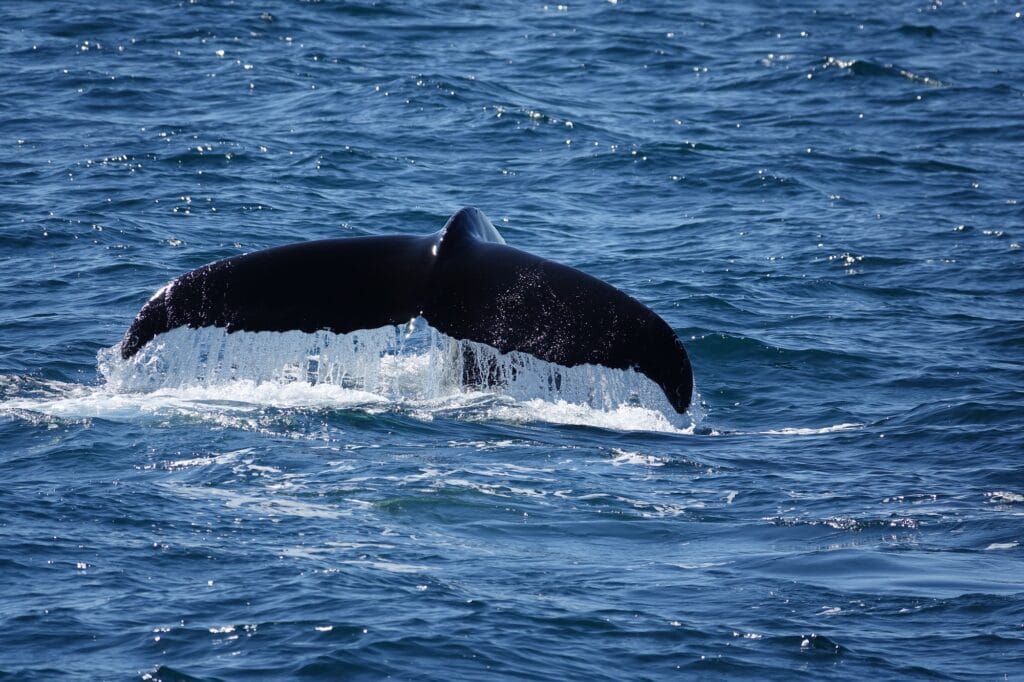 There are loads of awesome places to learn more about whales! Try the Natural History Museum for a start.