Remote Swimming Pools around Iceland you must Visit!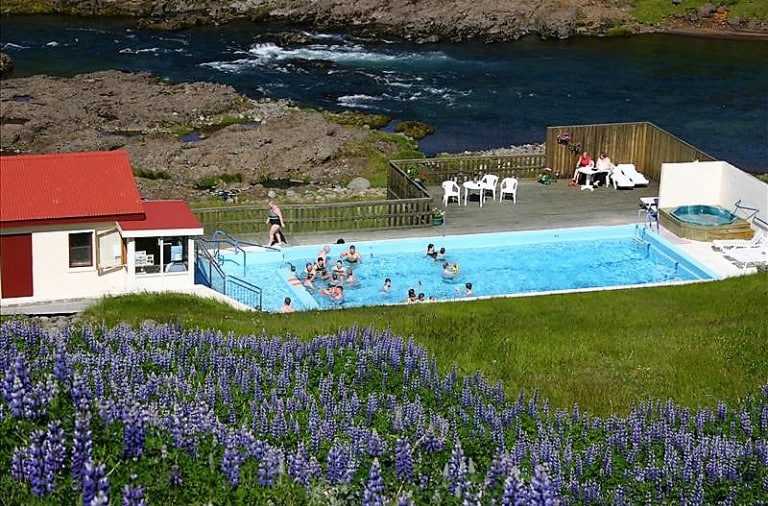 By Lucky Byfleet
You've had a long day exploring in Iceland. Maybe you've been on a hike, to see the Glacier Lagoon, or out Whale Watching. Exhausted you want to warm up and chill out. Where do you go? The local swimming pool of course! Sundlaugs are everywhere in Iceland, we have about one public pool for every 2000 people, more than ten times that of the U.K! Accessible and cheap to get into (about 7$), they are a huge part of our health and social life.
Swimming pools in Iceland are more than just a place to do lengths and learn to swim, although a lot of them were built in around 1940 for that exact purpose – Icelanders had had enough of people drowning at sea. Now they are a social hub, we catch up with old friends, allow the kids to burn off energy, spot our Icelandic celebrities, and judge foreigners for not showering before they get in. Well, not so much the last one, but please shower. Because we all do it there's hardly any chlorine in our pools, making them kinder for your skin, easier for your eyes, and all-around a better place to be. You may be shocked when you realise we shower naked, no one is looking! But if you aren't comfortable there is normally a cubicle too.
Icelanders have to know how to swim before they can graduate school, which, given that so many spend their lives on, or next to, the ocean makes a lot of sense! Whilst a lot of pools are in the capital area, and we cannot recommend them enough, there are some hidden gems that are way out there, you may even be lucky enough to get them to yourself! We hope you get a chance to visit them during your time in Iceland.
Krossneslaug
At the end of one of the most remote roads in the Westfjords, an already remote area of Iceland, you can visit Krossnes, a stunningly located pool, looking out across the ocean from the wild and brutal Strandir coastline. We visit it as part of our Strandir Adventure by Minibus tour. But for the brave you can drive there yourself, just please remember to put money in the payment box; it being unstaffed means it is open all year, ready to be visited under the midnight sun, or the Northern Lights.
2. Seljavallalaug
The oldest still functioning swimming pool in Iceland is found as a reward at the end of a short 15-minute walk from the car park. There is a path, and it is all flat, but it is a long a river bed so it may not be suitable for less mobile people. Its unusual location is because of the combination of hot spring and cool river to keep it filled. As far as our pools go it is the least luxurious, often left messy by visitors (please take all your trash and towels home), and with no shower facilities. That said it is an absolute wonder, and definitely worth a visit, carved into the rocky hillside.
3. Selárdalslaug
Positioned next to the stunning Selá River, known for fly fishing, this beautiful little pool is over in the East of Iceland, with fewer people and hot springs this swimming pool is a rare gem for even existing! It is beautifully maintained, and worth a trip in itself to visit such a glorious location, totally in the middle of nowhere. Although the opening times are limited in winter it is a great place to come and see the northern lights, with the vast open sky around you, no light pollution here!
We travel all over the country, and we are delighted to show you our swimming pools, but we specialize in boat tours from Reykjavik. Do you want to see whales in the wild? Or puffins? Or see the gorgeous Northern Lights shimmering above you? Get in touch here.