Success! We found stunning Northern Lights.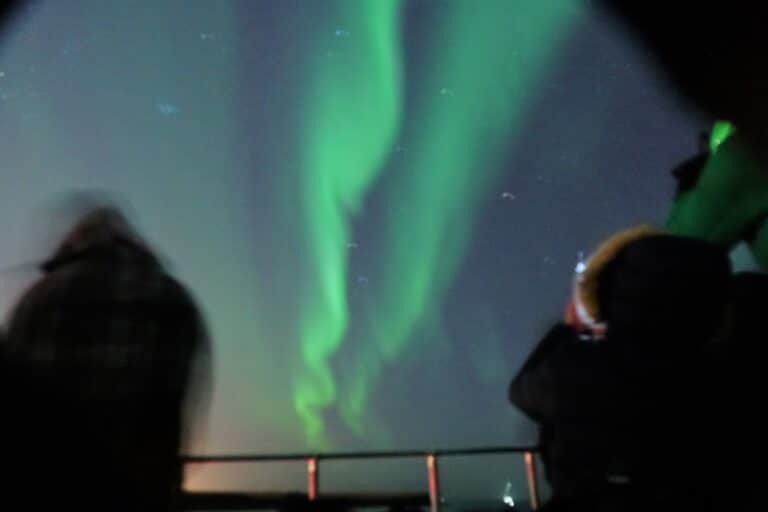 Northern Lights luxury yacht trip from Reykjavik, Iceland was a raging success!
Forecast 40% cloud cover 3/9 KP index
Success! Sea Trips Reykjavik found stunning Northern Lights tonight from Reykjavik.
The clouds overhead shed a little rain as we were boarding our luxury superyacht, Amelia Rose, to go and look for the aurora. Luckily the clouds were forecast to clear and for once the forecast was bang on and after about the first hour we started seeing the stars through the thinning cloud. The huge tower of light, The Peace Tower, was also lit tonight as it is Yoko Ono's birthday, the brains behind the Peace Tower.   
Whilst we made our way out past the islands that guard the Reykjavik harbors everyone stayed cozy and warm in our luxurious lounges, or up in the wheelhouse, where lucky people got to have a seat in the captain's chair! The whole time we keep an eye not just on the local weather forecasts and systems but on the information we get straight from NASA, things like an increase in the solar wind speed and density indicate that we should be seeing the northern lights appear soon. 
Sheltered by an island the sea was calm, and we waited patiently for the flare-up that was predicted by the satellite readings. Suddenly there it was, a great green arc high above us. Undeniable. Shortly after that it danced and split into three or four arcs, then broke free of the lines and started making tornado shapes in the sky with bright colors. It really was a marvel to see and we loved showing the natural wonder that is the Aurora Borealis to people.  
We also take the luxury yacht, Amelia Rose, out whale watching during the daytime. If you have already bought a ticket to see the northern lights with us you can come out whale watching for half price. The most common species of whale we see are minke whales, humpback whales, white-beaked dolphins, and porpoises, though we never really know what we will see, and in the last few months, we've had basking sharks, pilot whales, killer whales (orca) and even blue whales!  
We always have blankets, ponchos, and seasickness tablets on board if you feel groggy or cold. Let us know if you have any questions at seatrips@seatrips.is or look at our FAQs.