First whale watching trip of 2021 from Reykjavik was awesome! 3 whales!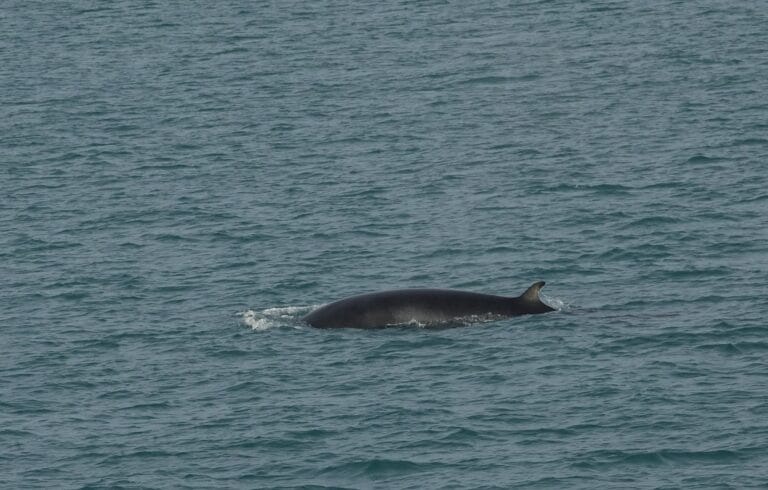 Because of COVID we hadn't been out since Christmas eve – what is Christmas without whale watching? – and today we went out again, to find 3 gorgeous whales in Reykjavik Harbour. Wonderful.
Written by Lucky Byfleet – Head Guide
What a day! We found 3 beautiful minke whales, and so many guillemots, gulls, cormorants and kittiwakes, more surprising than that was a pair of very early puffins out on the water!
It was very exciting to be back out on the water whale watching today after so long in harbour, the luxury yacht Amelia Rose was fresh from her refit and time on the slip so was in tip-top condition. The sky was hung with low cloud and the wind blew in from the south west as we set out whale watching from Reykjavik Harbour. The mountains all around us were snow capped and we could see all the way to the Reykjanes Peninsular in the south where the volcano is erupting.
Despite the clouds and the slow rolling waves, the visibility was great. We sailed out from Reykjavik Harbour, past the islands of Engey and Akurey, both famed for their puffin colonies in the summer months. There were none there now but the water around them had a couple of sea birds like guillemots, cormorants and other gulls.
The luxury superyacht, Amelia Rose, is perfect for whale watching as it has three viewing decks, and from the top one we have 360-degree views. From there it feels like we can see forever. We turned out further into the area we know to be rich, with loads of fish spawning there and as a result all year round we find large and small cetaceans, often feeding in harmony, but occasionally playing or bullying one another.
In the main feeding ground, some shallows about 45min out of Reykjavik, and after only one or two gulls having been spotted most of the way, there was suddenly birds everywhere. We use sea birds a lot to find marine mammals as often they eat the same type of fish. We always tell our customers to look out for them, especially ones diving from a height as quite often there will be whales or dolphins underneath them.
For more information on whale watching, including how we search for whales and dolphins, and an article on how to be a pro-cetacean spotter yourself have a look at our guide here. Whilst looking out we were very surprised to see two puffins fly past. With their stubby wings, round bodies and wide beaks there was no denying them. Welcome back to Iceland little auks!
Sadly there were no whales in that area despite the birdlife, so we turned northeast, towards another popular feeding ground, though a smaller one. We'd almost given up hope when right behind us, totally out of the blue, surfaced a huge minke whale! Only about 20metres from the back of the ship and longer than the yacht is wide! This is what whale watching is all about! We stopped straight away but it disappeared as fast as it has surfaced. A minke that large was very likely to be a female as in baleen whales the females are bigger than the males.
Now that we knew there was at least one whale in the area it was a waiting game. Soon another, smaller one surfaced with an angled fin, about 200m away in the direction of Reykjavik, and then finally another surfaced nearby several times with a very hooked, curved fin. The shape of the fin is one of the ways we know we saw three different individuals.
After some time watching these gorgeous and speedy creatures we left the minkes to themselves and we headed home to Reykjavik City Centre to warm up!
Seeing whales and northern lights are rightly on the top of peoples Icelandic bucket lists, and we love showing everyone both. If you have booked onto a whale-watching tour with us you can come out with us to see the aurora for half price, but still aboard the luxury superyacht Amelia Rose.
We, Sea Trips Reykjavik, sail from the centre of Reykjavik. Our superyacht was built in 2003 and is extremely comfortable and stable. However people react to the ocean differently, so we always have sea sickness tablets on board. We also have lots of blankets and ponchos in case you get chilly, though you can always come inside to warm up in our cosy saloons.
For more information on our boats, our trips – including whale watching, and any accessibility questions please email us at seatrips@seatrips.is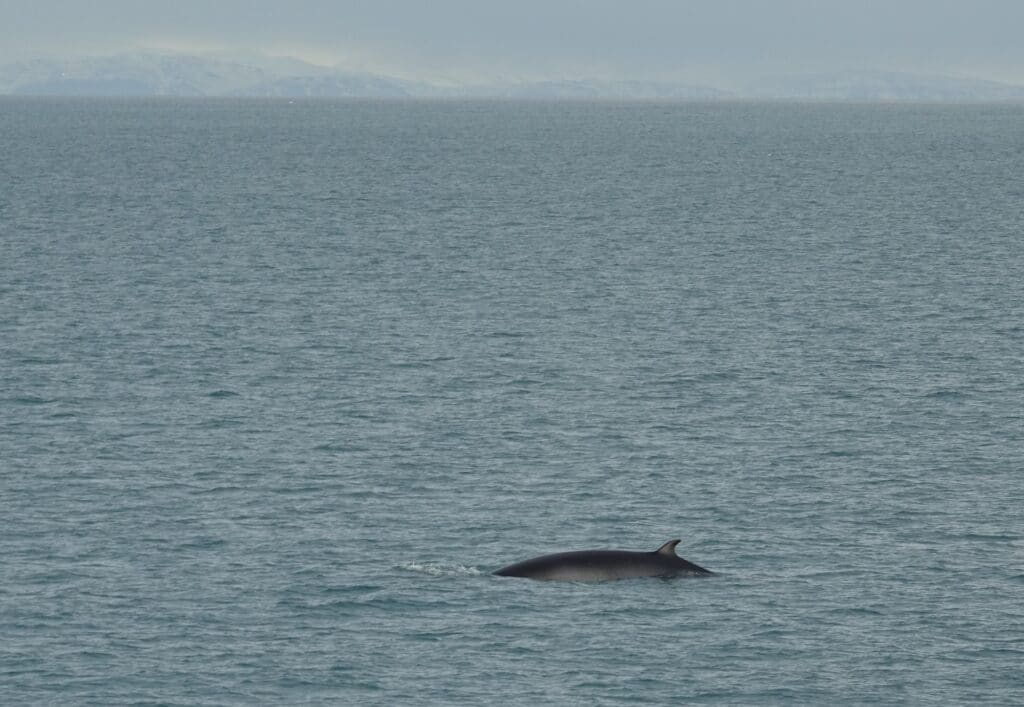 What is the difference between baleen and toothed whales?
We see both toothed and baleen whales here in Reykjavik harbour, Iceland. Did you know that dolphins and porpoises are also part of the same family? www.uk.whales.org is a brilliant website that goes into a lot more detail however this is the basic description!
They write that;
"Baleen whales have baleen plates, or sheets, which sieve prey from seawater. Toothed whales have teeth and they actively hunt fish, squid and other sea creatures. Dolphins and porpoises all have teeth and rather confusingly are known as 'toothed whales' too!

Another obvious difference between baleen and toothed whales is the number of blowholes on top of their head; baleen whales have two whereas toothed whales have one. There are only 14 baleen whale species and they are generally larger than the 76 species of toothed whales – except for the mighty sperm whale, the largest toothed whale."
If you are interested in learning more we recommend these websites, https://www.nationalgeographic.com/animals/mammals/group/whale-facts/ and https://www.worldwildlife.org/species/whale They have a lot of extra learning materials about cetaceans all over the world.