Have a whale-y great Christmas!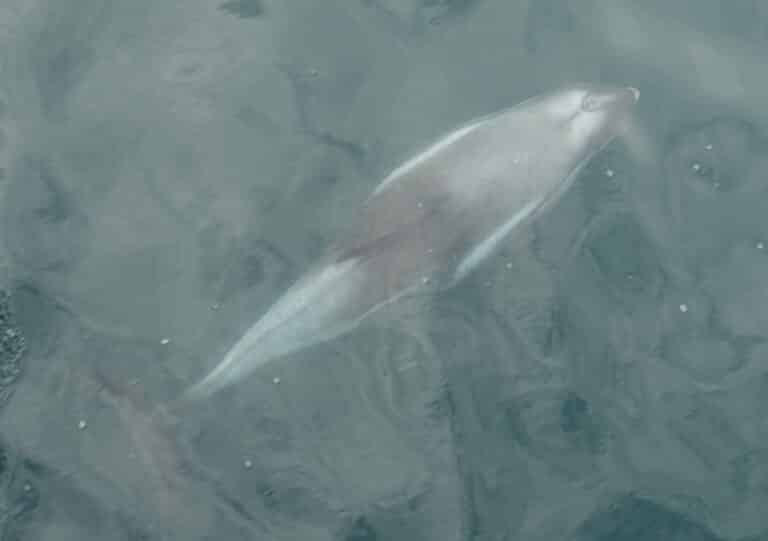 by Lucky Byfleet
We have missed being out on the water every day, and so it was a delight to take our lovely customers out to look for whales and dolphins today. What a Christmas treat! We found porpoises and had a large pod of white-beaked dolphins playing with the ship and bow riding. As well as that we saw lots of seabirds, including eiders, cormorants, gannets, guillemots, and gulls.
It was quite warm for the end of December today, and dry and clear, perfect weather for whale watching, the snow is forecast for Christmas day so fingers crossed for a white Christmas! A small group of us headed out of Reykjavik harbor on our beautiful superyacht Amelia Rose, mugs of hot chocolate in hand and keen to get out on the water.
Normally there are several boats out on the water to help us find the cetaceans that live in our rich waters, but today there was only us and a private tour on a smaller vessel. Being up high on the top deck gives us a huge advantage, being able to see further and down over the waves. Today we had a small swell coming up from the south, but as the ship was originally built to traverse the world she cut through it easily.
The Gulf Stream coming north keeps Iceland much warmer than other places on the same longitude, and it also brings up lots of nutrients, which keeps our waters rich and full of life. During the summer migratory whales, such as humpback whales come here to feed in great numbers, and some remain all winter, we also get basking sharks in the summer, as well as lots of migratory birds like the Arctic tern and our beloved Atlantic puffin.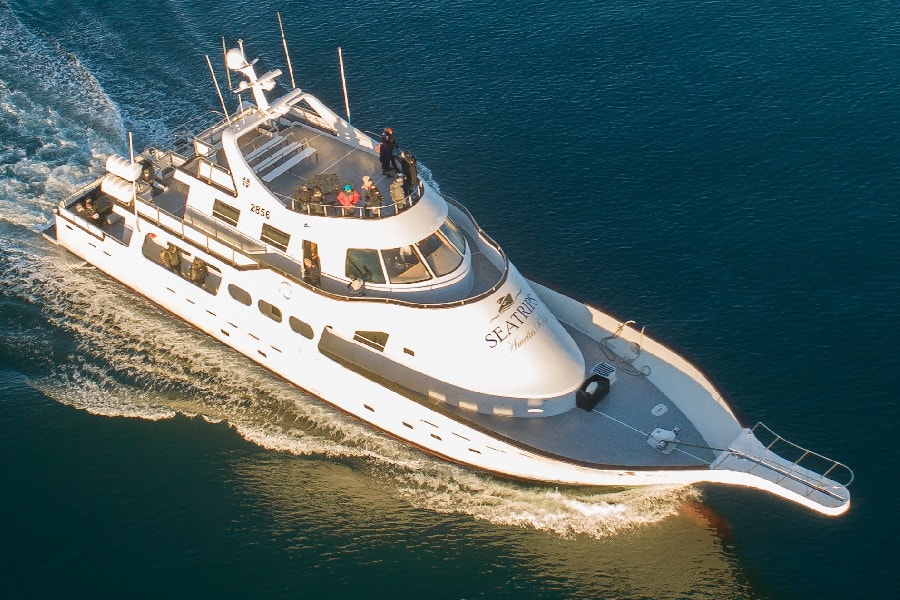 The view as we headed our from Reykjavik harbor was stunning, the mountains around us all snow-capped, and such good visibility we could see all the way to Keflavik. Passing Whale Fjord we saw lots of cormorants and lots of guillemots. We use birds to help us find cetaceans, but none of these birds, however glorious were behaving in a way that indicated the presence of a dolphin or a whale.
So we carried on further, and a school of porpoises passes us, riding the swell, it is always a joy to see them as they can be extremely shy, and their presence indicates food in the area. However, much as we love them we were on the hunt for their larger cousins; porpoises are only about human-sized.
We look and looked and found birds diving in the way that indicated there may be whales, only to find nothing underneath them. We had almost given up when a school of dolphins shot into view, swimming up alongside us and then playing with us almost all the way back into Reykjavik. White-beaked dolphins are the most common species of dolphin in Faxafloi and are a joy to see, most especially when they are in this playful mood.
We couldn't ask for anything more beautiful than dolphins playing in the pinky gold light of the sunset. What a gift for us! We headed home delighted.
For more information on how we search for whales and dolphins and learn how to be a pro-cetacean spotter yourself have a look at our guide here.
For more information on our boats, our trips, and any accessibility questions please email us at seatrips@seatrips.is  or read through our FAQs.