Wonderful! We found beautiful Northern Lights tonight on our luxury yacht, leaving from Reykjavik.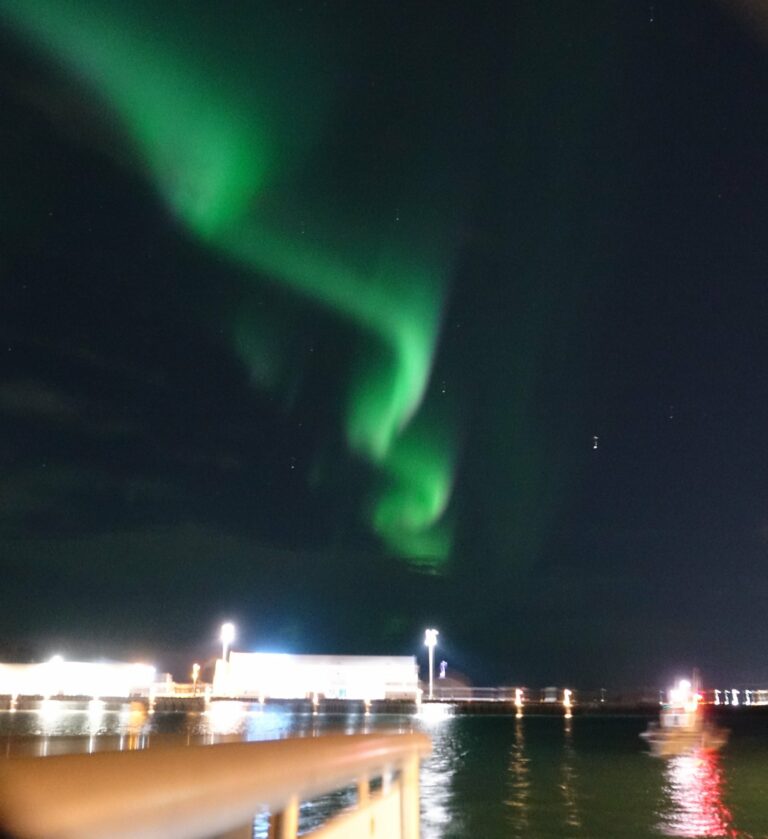 Northern Lights Forecast; 60% cloud cover 4/9 KP index  
What an amazing evening, we set out on board our luxury yacht, Amelia Rose, there was some cloud cover but it was forecasted to lift shortly after we departed, and true to it, we started seeing the glimmer of stars above as we motored out.  
We headed through the islands that sit just off the coast of Reykjavik, close enough to the city that we could see the lights in the distance but far enough away for their light pollution not to affect the visibility. The shelter of the islands meant the boat is in a calm, flat area of water, perfect for getting photos of the aurora borealis, should it show.
The KP was high so we were hoping for great things, but as the trip wore on heavy clouds sat over Mount Esja, exactly where we often see the northern lights. We stayed out later and later in the hope they would part and give us the ethereal display we all wanted so much. Sadly it didn't happen and so we slowly began to make our way back towards the harbor, the last boat out that night, and always checking back behind us in case it came out.
Then, a small faint light, not over by the clouded Mount Esja but over to the east. Gradually it grew brighter and brighter, and before we knew it the aurora was dancing all around us, super-bright greens, with reds in areas, and even, the rarest sight, a hint of blue in some of the rays. We waited outside the harbor to enjoy this incredible spectacle, but eventually, we had to come and moor up the yacht.
It was one of the best displays we have had this year and it was a real treat to show it to everyone. An incredible night for everyone!
The other natural wonder people come to see in Iceland and top of the bucket list, and rightly so, are the wonderful whales we have in the harbor here. We also go out on the luxury yacht Amelia to see them and the other marine mammals here, though the view of the mountains and islands is worth it by themselves!
If you have already bought a ticket to see the northern lights with us you can come out whale watching for half price. The most common species of whale we see are minke whales, humpback whales, white-beaked dolphins, and porpoises, though we never really know what we will see, and in the last few months, we've had basking sharks, pilot whales, killer whales (orca) and even blue whales!
Sea Trips sail daily from Reykjavik Old harbor, Iceland. Our yacht Amelia Rose was built as a superyacht in 2003 and as such she is extremely stable, however, if you feel you need them we always have motion sickness tablets for free at the bar, just ask our friendly crew. We recommend you dress warmly as it is always colder at sea than on land however we also have ponchos and blankets available around the boat for your use.
Please contact us if you have any questions about the facilities onboard our ships , or have a look at our FAQs.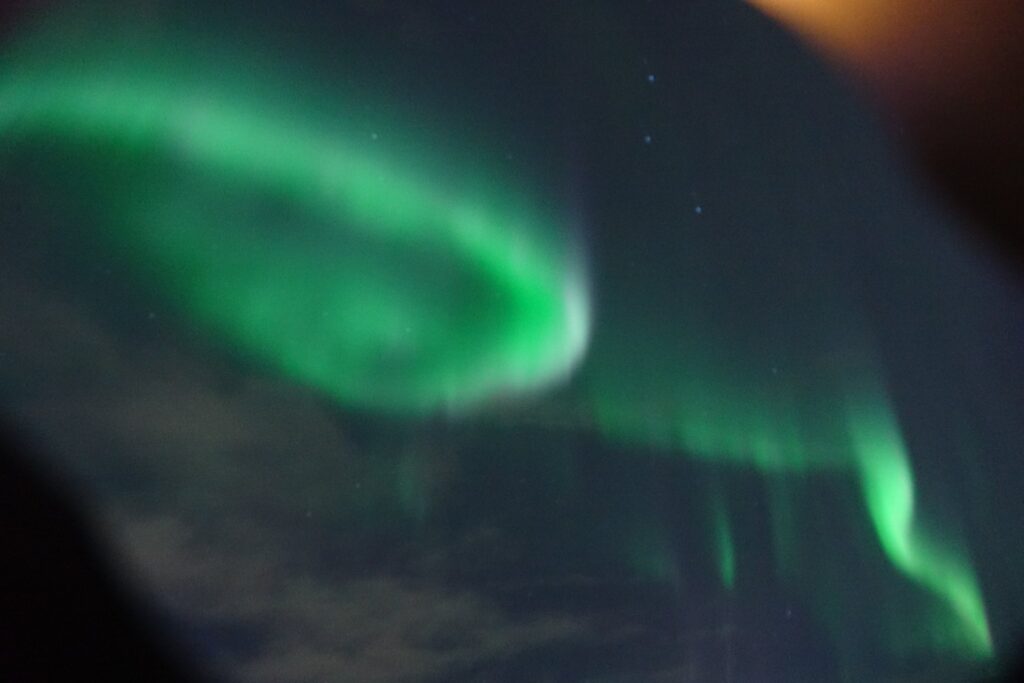 What are the Northern Lights?
Sten Odenwald, author of The 23rd Cycle: learning to live with a stormy star (New York, Columbia University Press, c2001), explains it thus;
"The origin of the aurora begins on the surface of the sun when solar activity ejects a cloud of gas. Scientists call this a coronal mass ejection (CME). If one of these reaches earth, taking about 2 to 3 days, it collides with the Earth's magnetic field. This field is invisible, and if you could see its shape, it would make Earth look like a comet with a long magnetic 'tail' stretching a million miles behind Earth in the opposite direction of the sun.
When a coronal mass ejection collides with the magnetic field, it causes complex changes to happen to the magnetic tail region. These changes generate currents of charged particles, which then flow along lines of magnetic force into the Polar Regions. These particles are boosted in energy in Earth's upper atmosphere, and when they collide with oxygen and nitrogen atoms, they produce dazzling auroral light."
If you are interested in learning more we recommend these websites, https://www.spaceweatherlive.com/ and http://www.aurora-service.eu/ They have a lot of extra learning materials as well as real-time satellite information.